Skip Navigation
Website Accessibility
Bags and Craft Classes
Messenger bags, totes, backpacks, pouches, and furry friends - we've got you covered! Have fun stitching up these fun projects that will be treasured for years.
Bag and Tote Project Classes
Fun to create and versatile in use!
Once you've learned the basics of operating your sewing machine, this tote project is perfect for practicing your new skills.
3 hours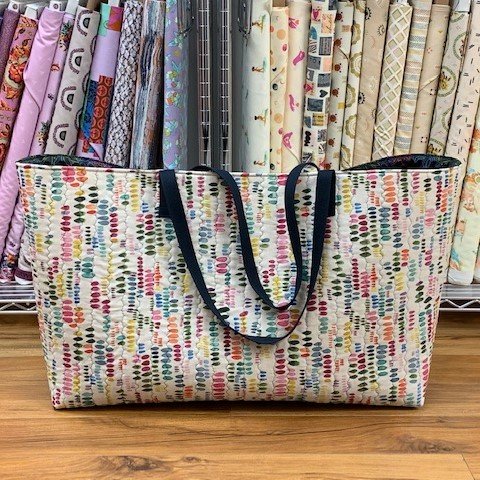 Learn how to make the a simple quilted tote bag, an easy and fun way to showcase your favorite fabrics while practicing quilting techniques.
3 hours
This bag is the perfect size for a Sewist on the go! The zipper top allows for the bag to completely open creating easy access to all your notions in a flash.
3 hours
The Zippy Crossbody Bag includes a zipper closure and three exterior zipper pockets making it perfect for travel, shopping, and gifting. This pattern is fat quarter friendly with two size options.
2 sessions at 3 hours each
The Firefly Tote is perfect for a day trip or work bag with a handy zippered pocket on the front making it super functional!
2 sessions at 3 hours each
This is a fun boxy bag to make for both the men and women in your life. It is an essential bag for travel, going to college or just categorizing your toiletries.
3 hours
Our newest class, Cuddle Wine Tote with Machine Embroidery, is joining our Summer line-up! Details coming soon.
3 hours
Conquer your fear of zippers! This sampler class will guide you through various zipper types and zipper feet that you can then use as a reference for all your future projects.
3 hours
For the Home Classes
Sewing for the home.
Learn hooping techniques, how to pick the best stabilizer, threads, and the basics of machine embroidery.
3 hours
The Sea and Me fabric book celebrates underwater creatures alongside ocean botanicals with humor to share with your little one.
3 hours
Use hand embroidery techniques to add embellishments and accents The Sea and Me Doll Panel.
3 hours
Fifi is a foxy little lady who looks gorgeous in all sorts of fabric but, in this class, we'll be making her using our Cuddle collection!
2 sessions at 3 hours each
Create a quilted pillow top with a zippered closure in the back to take your project from comfy to luxury!
3 hours
Learn how to create tab top and rod pocket curtains to add a unique touch to the windows in your room.
3 hours
Kick off your Christmas with Tula Pink's Holiday Homies machine embroidery designs on your holiday projects!
3 hours
Our newest class, Serging a Christmas Tree Skirt with Ruffle Edge, is joining our Summer line-up! Details coming soon.
3 hours
Create a one-of-a-kind stocking that will be filled with treats on Christmas morning. These stockings will be way too pretty for lumps of coal!
3 hours
Handwork Classes
Unplugged creative arts.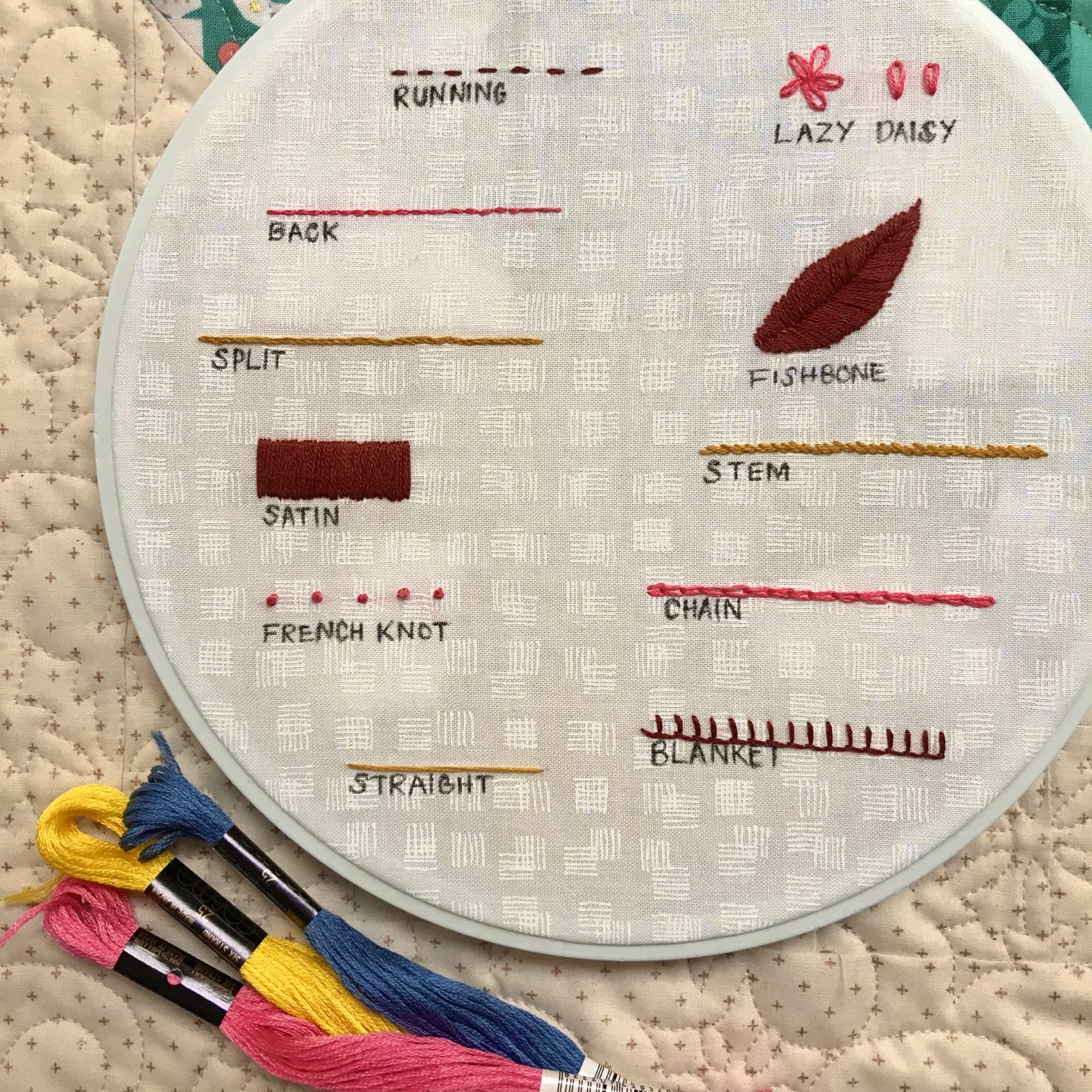 Learn five basic embroidery stitches, supplies, transfer methods, finishing methods and more.
3 hours
This fresh and simple design uses basic hand embroidery stitches and leaves creative space for you to add additional flowers and lettering.
3 hours
Join us to make Christmas Ornaments using hand embroidery to create merry little animals with holiday messages which can be used to create tree ornaments or gift tags.
3 hours
Create an an 8" fabric collage block for use in a quilt, bag, or pillow panel later. With so many options, this class can be taken again and again!
3 hours
Sashiko is a form of Japanese needlework of simple geometric patterns using with a decorative running stitch technique.
3 hours
Our newest class, Intro to Needle Punch, is joining our Summer line-up! Details coming soon...
3 hours
English Paper Piecing enables you to take quilting on the go! This handwork technique to piecing enables precise points and angles in piecing.
3 hours
Add a beautiful heirloom piece to your holiday decorations with a bespoke table runner. Plan out and start a table runner with us using any color combination or length.
3 hours
Creative Arts with Baby Lock
The projects covered in these classes are varied but are designed to teach you the advanced features of your Baby Lock.
Join this class to learn all the features of your Baby Lock Solaris. There will be a different project each month that will utilize different Solaris features to complete. This class is offered in person and virtually.
3 hours
Learn all about your Baby Lock Altair sewing machine with a different project each month designed to utilize advanced features on your machine.
3 hours