D Is For Dream
by Paper + Cloth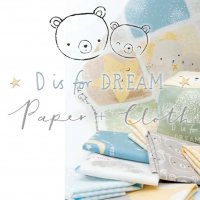 Wish upon a star and dream big with this delicate and sophisticated collection of whimsical prints. Featuring cozy, snuggled-up bears, enchanting moons and stars, colored in a beautiful unisex palette of blue grey, lemon and peach, with soft touches of sage and eggshell.
D is For Dream is perfect for your new little bundle!
Release date for this print is July 2022.
If you would like to be notified when this collection is in stock, let us know via our
Contact Us
form.