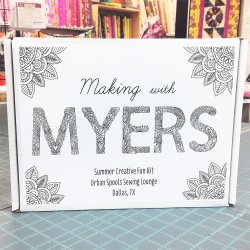 Making with Myers
Summer is all about exploration and creative fun. Our talented Myers has designed a kit perfect for putting your sewing skills to use at home or on the road!
Summer Creative Fun Kit
All projects in the Summer Creative Fun Kit include a How-To video with Myers guiding you through each project. All videos are listed below and can be watch when you are ready to tackle a new project. You can also follow us on social media as we add a new video each week. Each project can be either hand-sewn or completed using a sewing machine.
About Myers
Myers actually learned how to sew at Urban Spools Sewing Lounge back when she was 8 years old. Fast forward to today, she is now a part of our Team and is now helping us teach our Summer Campers how to sew! She is such an amazing creative talent and we are super excited she continues to get others excited about the Art of Sewing. She is currently a student at Pepperdine University studying Business Administration.